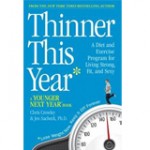 Public Group
active 1 month ago
Welcome to the Thinner Next Year beta test group! This is a private group for those that have been accepted into this program running June 15th through December 15th.
We hope you will share your thoughts, ask questions, join a forum and meet other participants here. Along the way, you will receive weekly emails from Chris and the manuscripts will be shipped by the publisher Wednesday, June 18th. Forums will begin in July.
This private group is run by Chris Crowley, Dr. Jen Sacheck, Dr. Riggs Klika and Alana Appleby. We look forward to this journey with you!