The Sacred 25 and Beyond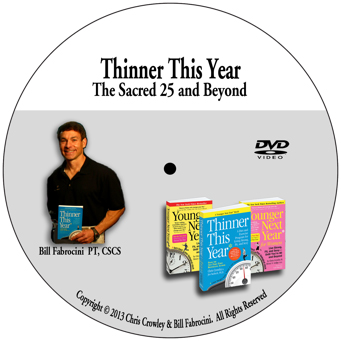 The Sacred 25 and Beyond is a step by step demonstration and explanation of the whole body exercises featured in Thinner This Year, the sequel to the NY Times best seller, Younger Next Year. Physical Therapist Bill Fabrocini, who created this exercise program, guides you through a unique series of strength exercises providing instruction and helpful tips on how to maximize the benefits. Emphasizing the importance of whole body movement, this DVD shows you how to incorporate stability and strength training into your exercise program so you can get lean, strong, and enhance your body's function and performance.
"A brilliant assembly of exercises that provide a blueprint of how we should move in everyday life. This program will help you to move more freely as you age, reduce joint pain, lose weight, and enhance the quality of your life." Chris Crowley
---
Preparation for Movement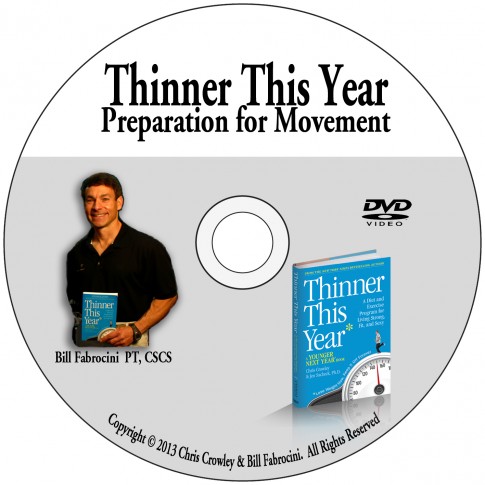 In Preparation for Movement Bill Fabrocini guides you through what may be the most important part of his exercise program covered in Thinner This Year. Preparation for Movement goes way beyond the traditional warm-up and is critical to prepare you for exercise training (strength and cardiovascular), sports, and daily life. The exercises and methods covered in this DVD provide the keys to enhanced joint mobility, postural alignment, muscle activation, and whole body stability.
---
DVD Excerpts
TTY_Trailer wOrder from Chris Crowley on Vimeo.
TTY_StreamWU from Chris Crowley on Vimeo.
---
Testimonials
Here is a nice emailed testimonial
Hey Dave, quick story, this morning I decided I was going to bring the book to the gym and try the Preparation for Movement chapter, in reality I wasn't expecting much. The woman I work out with came by and joined me. Of course she was trying to make them tougher, so I told her its not a workout, its a warm up, and to just chill out and try it out. We went through it fine and then went to spin class.
I get on the bike, not even thinking about what we had just done and I suddenly thought to myself, I feel pretty good, loose and comfortable. I was going to say something to Maria but decided against it because I didn't want her to …. well you know give me a look like I was nuts. A few minutes later she turns to me and says, Hey I feel really good!
I'm shocked at the difference it made. As I said, I wasn't expecting much, but being the Kool Aid drinker that I am I had to try it out anyway.
Oh by the way….down 7 lbs since you gave me the book, and that includes the holidays!, Beverly has lost 5, on diet alone as she hasn't been working out too much yet.
---
Buy Now