If you've read Younger Next Year you'll know what a Kedge is. You've probably already got some under your (ever tightening) belt.  But if you haven't read the books yet, you're not off the hook. Yet. Long story short – A Kedge is our term for Ordinary People Doing Extraordinary Things.  It's setting a desperate goal and working like crazy to get there. To save yourself.
It doesn't have to be a self-inflicted torture. It doesn't even have to be long-term (how about doing something next week?)   It does have to be reasonably demanding. It has to be motivating It might well be 'social'. And it'd better be fun!
And a Kedge may just save your life.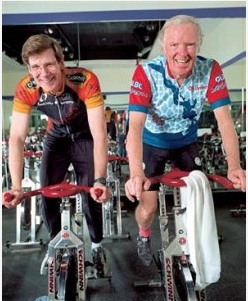 So – find stuff to do.  Sign up and get training for that Century Bike Ride that's taking place next summer for your favorite charity.  Plan a serious adventure trip with friends. Hike, surf, bike, ski, run a marathon – whatever turns you on, even if you've never done anything like this before (maybe especially if you haven't)  and get training.  Then repeat, repeat, repeat.
Here's the deal – I'll post my kedges, great and small right here – and maybe yours too if you send them to me.  Email  kedges@youngernextyear.com and let's see how we can inspire each other to greater and greater heights!