It is raining in Paris. Raining pretty hard, to tell the truth.  This is not regarded as troublesome by the natives.  We, on the other hand, are wet.  Other than that, Hilary, Olive (the dog) and I are doing well. We are living, for FREE!  in a stunning Left Bank apartment on the Rue de Grenelle near the Rue de Bac and the Blvd St. Germaine, if you know about such things (I do not). But I have a rough idea of where I am because, as I sit here, it is easy to see the Eiffel tower over the roof tops, through the rain.  Hilly got this luxurious place in a clever apartment swap and got all of  us over here with airline "Miles". Clever miss. That, alas, was the end of "free". We've been catching up nicely.
The first thing we did, upon landing, for example,  was to kiss all the advice in THINNER and YOUNGER goodbye and settle down to a bacchanal of non-stop, high-end eating and drinking. As bad luck would have it, we have a couple of spoiled friends over here, including a famous painter who one day may be an even more famous gourmand. He will have a bite to eat. And a spot of wine. And he likes to dine high. To give you a tiny idea, we have already been to The Grand Vefour, a likeable joint that was started in the late 18th century and has gotten steadily better and more expensive ever since.  It was much admired by Napoleon and Josephine,  Victor Hugo, Sartre and folks like that. Nice room. Good chow, too. No scholarship menu, though.
In that same spirit, I had lunch today at a stunningly beautiful private club to which I finagled entry – after a hellish workout in the very very elaborate gym. The huge but perfectly proportioned dining room gave out on a huge private park (and this is in he heart of fashionable Paris) through ten sets of, 12 foot high French doors.  It was, quite simply, the most beautiful room in which I have ever dined.  Not a terrible meal either.  Oh, and they serve wine, too.  Right in the middle of the day.
One of the joys of the trip was bringing Olive, the Havanese. This country may be going to hell in a handbasket because they don't have our work ethic and so on. But they have a near-monopoly on living well. For example, dogs are welcome in almost all the restaurants. Such a good idea, and Olive rejoices. She is welcome on the Metro, too.  She has a fairly sweet disposition anyway, but she fairly blooms in Paris. And the French – who could not give two snaps of the finger for a visiting American – go absolutely nuts about her, where-ever we go.  AND they have a great bike rental system, like the one we're just getting in New York. Not a bad city.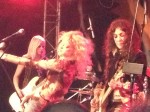 On the other end of the snooty scale – but very high on the how-cool-are-we? scale – Donald, the painter took us last night to a grungy club where the featured band was a group of four women called Lez Zeppelin.  The premise is that they are all gay and absolutely delighted about it. But the real point is that they – and especially the electric, near-naked, lead singer – are wonderful.  I am usually ready for my bed by, say, 10:30 but we watched these kids twist and shout (and twist quite a bit more) until after one. THEN on to a superb Alsatian bistro, down the street.  (One of the astonishing things today, at that fancy club I mentioned:  I was getting dressed after my workout, beside this glistening silver fox boulevardier of, say, 50 who – after seeing to the combing of his elegant silver locks – calmly put on a Lez Zeppelin T shirt to wear under his formal suit. I had to tell him that we'd seen them the night before, and he gave me this very satisfying nod… as if we were members of a club even fancier than the one we were in.   This is a very happening city, I tell you.  I suspect that the lines of class are pretty rigid, But the lines of cool stretch everywhere. Wowzer bowzer!
Tomorrow, off alone to the Normandy beaches. Hilary won't come. Nor Olive. Big mistake.