Toward the end of today's bike ride (on a very easy rail trail on a perfect day), some doofus went flying by me on a 30 pound mountain bike with the seat too low and his handle bars up around his ears.  WHAT THE…!?!   Sure, he was young but still, this was an outrage. I put my feet down hard and caught up… went along just behind him for a ways, agape. Got to a town and he stopped and got off.  Me too.  "You are some strong biker," I said cordially. "That is a pretty heavy bike"…. He said, sweetly, "Well, I have already come 50 miles and I have 35 to go. So I have to keep my speed up."
Oh! Oh, I see. This clunker-riding loser has already ridden 50 miles and is doing another 35 so of course he has to be a lot faster than me on my $250,000 clipper.
Makes sense.
No it doesn't!  This is an outrage.  I shyly show him my bike… he picks it up.  I take his and try to pick it up.  Heavy.  Very heavy.
"Wow," I say, truly impressed that he can move this sucker, "You are strong."
"Yes," he says, "but it is easier because I have a little motor."
Oho! He has a little motor.  This clunker is in fact a motor cycle. Huh. Never mind, he loves it. Says it is such a help in the hills.  And you can do 25 mph without pumping at all.  He says there are already some 2 million of em on the road in Europe.
Actually some pals of mine have suggested that this is the new new thing, especially as you get a teeny bit older. And I should try it.
Maybe. Maybe after I have all my teeth pulled out, to save weight. And have a bike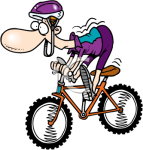 that weighs ten pounds and has 50 gears. Then we'll see.