Nothing happens in this blog… just a pleasant day and night and day, on the sweet, shrinking island of our life. Hilary's and mine.
Meet early, Friday, to practice a teeny bit of law in New York, helping a beloved nephew who has been sued. I don't have to know anything: I am here to be "wise." Easy peasey. Then the train into the country. Cold … ice everywhere. Excellent.
We work all afternoon- I write, Hilary paints. Then a pleasant supper with friends, a woman who had just read the final draft of my novel and had two good ideas. Two is a lot. Then home early and to sleep.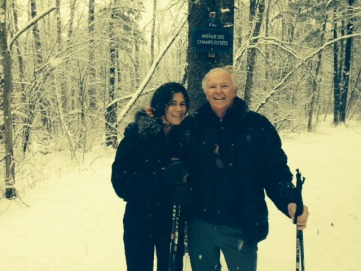 The phone rings, late. Another couple, much younger, calls to say there is gas in their house. Can they come and spend the night? Of course. In fifteen minutes, the mother–all bundled up and looking a little startled but still an absolute beauty – the three nice kids and a good sized English setter arrive and are shown to their rooms. We have lots of rooms. He'll be along in a bit; he has to deal with the gas guys. We snuggle down in the cozy house, bulging now with sleeping children.
Up early. Snow, fire in the fireplace. Popovers and bacon. Newspapers, children and dogs. The kids and Pa leave to ski downhill at Catamount, nearby. I'm too spoiled by years of skiing in the west for that. Hilary has to work on a new portrait. The young mother and I go cross-country skiing; she has never been. The snow is dubious for down-hill, perfect for cross country.
We pick up another pal, and the three of us head out. She is athletic… gets it fast. But I am selfish. Our pal stays with her, and I am allowed to race off on a long, separate loop. We meet up later, at the edge of the woods. Ski home. I am soaked in sweat, feel wonderful. Hugs, goodbyes. Actually, we will all get together again tonight at another house for dinner. I come home, climb into the big tub. Read. Write this silly note.
That's it. Not much of a story, was it? Is there a moral here? No, thank God. Except maybe this:
If you do all this exercise crap we talk about, you can do a hard xc ski for an hour or two like this with people less than half your age, and no one thinks twice about it. Including you. And you, old chap, are not tucked away at home, with a rug over your knees. You are tearing around these beautiful fields, in falling snow and cold, and feeling as alive and happy as ever you have in life. And, later, you will dine and talk with these same people and others. About jobs, and dogs and children. Even though their oldest kid is ten. And yours is sixty.